"Optical Measuring Instruments, Sample Preparation Equipment, And Laboratory Services"


Zebedee® is a quality manufacturer of high precision laboratory apparatus meeting or exceeding the stringent requirements of ASTM standards, and specializes in the design and manufacturing of high precision laboratory apparatus with such products as: clarity meters, sample cutting equipment, abridged gonio photometers and custom instruments made to your specifications.

CL-100 Clarity Meter


ZebedeeŽ CL-100 Clarity Meter is an instrument created to measure the transparency of plastic film, sheeting, glass, plexiglass, and wherever distinctness of image is important.


Read More...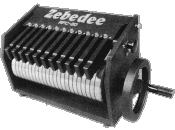 RFC-20 Rotary Film Cutter


Your answer to speed, accuracy and reproducibility in sample preparation. Suitable for use anywhere thin sample material needs to be cut into rectangular strips of varying lengths up to 14" and widths adjustable instantly in 1/2" increments.


Read More...